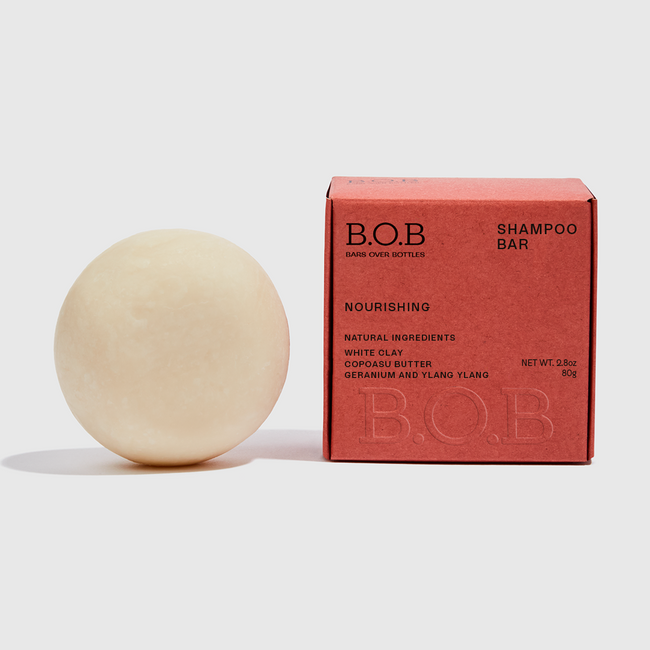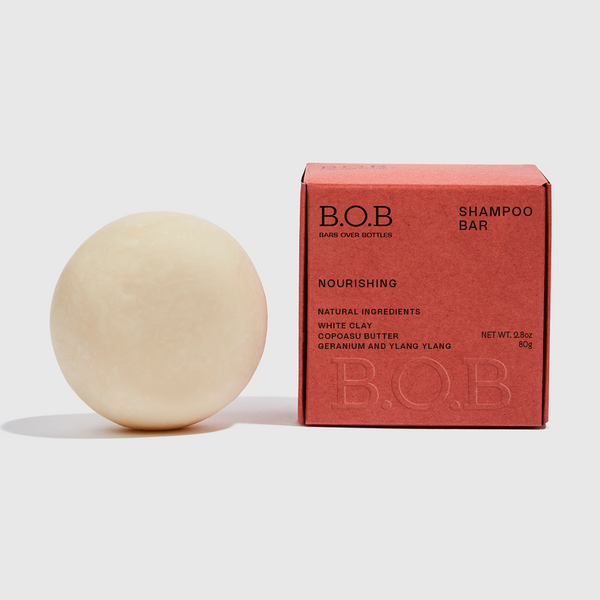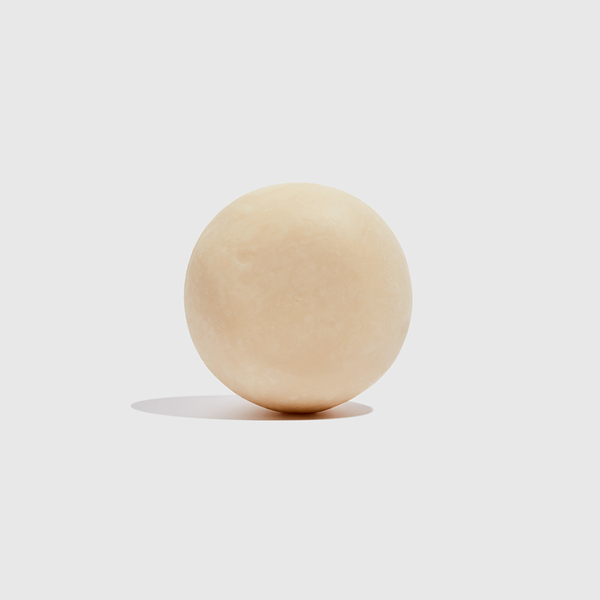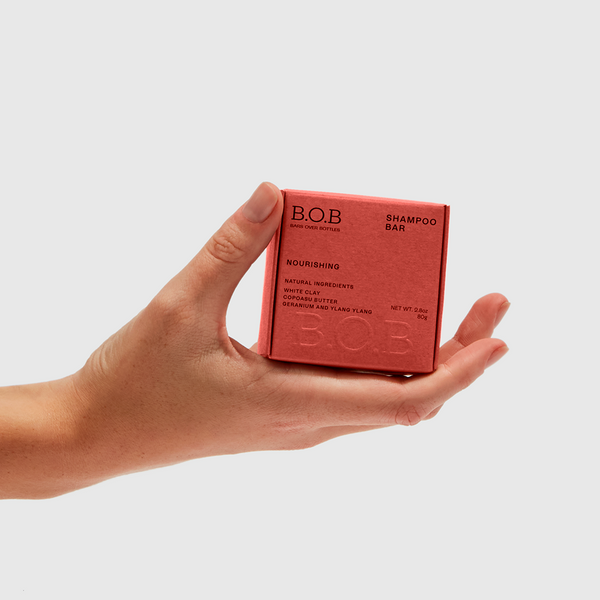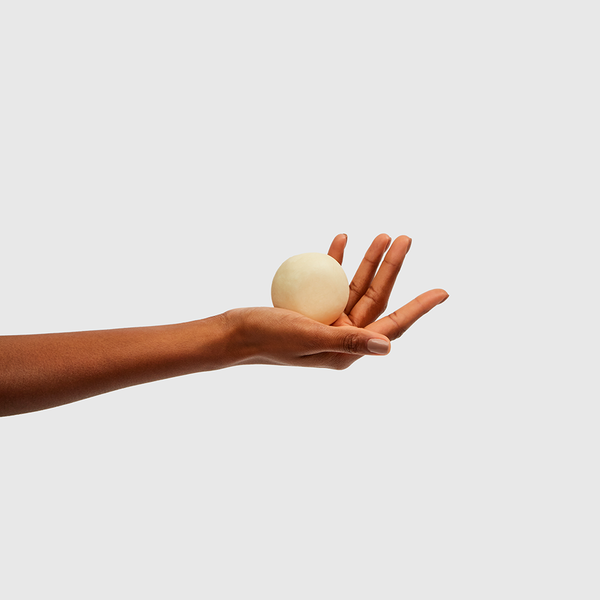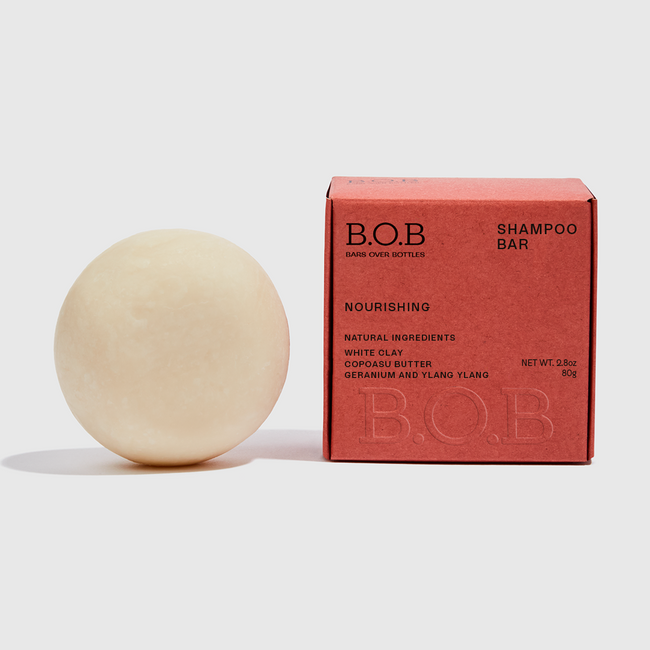 2.8oz
4,9
Nourishing shampoo bar
for balanced to dry hair
Description
yes, you can combine a deep cleansing and nourishing, this bar is here to prove that. uniquely combined to nourish as it cleans, leaving your hair soft, silky and shiny.
Nourishing Shampoo Bar 2.8oz
white clay

packed with minerals, white clay helps to give shine and restore your hair fibers while fighting hair porosity.

copoasu butter

moisturizes the strands, controls hair volume and reduces frizz. leaves your hair soft and healthy.

ylang ylang and geranium essential oils

this unique blend gives the formula a sweet and floral scent.
Nourishing Shampoo Bar 2.8oz
scent

sweet, floral. Ylang Ylang and Geranium.
full ingredients list
SODIUM COCOYL ISETHIONATE, CETYL ALCOHOL, THEOBROMA GRANDIFLORUM (COPOASU) SEED BUTTER, RICINUS COMMUNIS (CASTOR) SEED OIL, ZEA MAYS (CORN) STARCH, KAOLIN (WHITE CLAY), GLYCERIN, CANANGA ODORATA (YLANG YLANG) FLOWER OIL, PELARGONIUM GRAVEOLENS (SWEET SCENTED GERANIUM) FLOWER OIL, DEHYDROACETIC ACID, BENZYL ALCOHOL, GERANIOL, LINALOOL.
how to use
step 1
apply the shampoo bar on damp hair directly onto the scalp, working the lather in circular motions until the desired amount of foam is achieved.
step 2
massage the scalp using the fingerprints and spread the lather from root to tips.
step 3
rinse thoroughly, and repeat if needed. follow with our bar conditioner
customer reviews
Customer Reviews
08/27/2023
Toni b.

United States
I recommend this product
I've Found My New Favorite Brand!
I have been using bar shampoo and conditioner for years (to help do what little I can to mitigate the plastic polution) and just discovered Bars Over Bottles. Originally, I was hesitant to try the shampoos, because they all had essential oils. Understanding that essential oils are different than 'perfume' or 'fragrance' (which I dislike), I gave it a try. The scent is very subtle and the way the bar left my hair feeling was amazing! My hair is very thick and the shampoo made it feel conditioned without being dried out.
07/26/2023
Shari B.

United States
I recommend this product
Lovin' my locks
I love the shampoo bar... I'm one of those that needs for my hair to feel clean but not dried out. I can use this along with a conditioning bar, and my curls are happy. ☺️
07/23/2023
Holly P.

United States
I recommend this product
Best shampoo ever, bar or bottle!
I use this with the curl conditioner and my hair is so soft and shiny! I can't believe the difference between this and bottled shampoo, I was trying to reduce waste, but found a shampoo (and conditioner) that truly take care of my hair. I stock up so I never run out.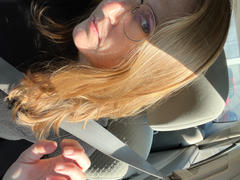 07/05/2023
Anonymous

United States
I recommend this product
Excellent shampoo bar. Will not go back to conventional shampoo/conditioner after trying these bars.
Much less waste and my hair feels great!
07/11/2022
Anonymous

United States
I recommend this product
great shampoo bar
great lather, compared to another company's bar. My hair feels clean and healthy
06/23/2022
Nancy A.

United States
I recommend this product
The best!
I have tried many different brands of solid shampoo and conditioner bars and B.O.B. are by far my favorite. I started using the bars for traveling but have continued to use them because they work so well! With other brands the conditioner bar was lacking so I would also use a regular bottled conditioner. With the B.O.B. conditioning bar I do not need to use any additional conditioner. My hair combs out easily and is shiny and smooth. Highly recommend!
Great product
I loved the product, it cleans my hair and it doesn't bring up any allergies (most conventional shampoos do, I get a very itchy scalp) I've been using for 2 weeks now and all my itches are gone. My only "complaint" is the smell which I didn't like, it's bad but the product itself is very worth it and I'm going to keep using it for sure.
Amazing
I bought the Moisturizing Shampoo & Conditioner, they are better than the others brand I've bought from, they last longer, the shampoo makes foam and both of them blend in wet hair easier, after the use the bars also dry fast and don't dismantle so easily like the other brand's bars, I truly recommend it
Nourishing Shampoo
LOVED IT! It smells amazing, unlike the Revitalizing Shampoo.
Really good
It arrived perfectly, packaging was 100%. Smells really nice and made my hair feel super soft. I recommend it.
Great experience
The shampoo makes the hair feel light, it's great! Besides that the smell is super delicious
Really good!
If you are used to salon shampoos, maybe you find the bars' smell a bit strong, but the result that they provide is great! My hair is really soft and a lot less breakable.