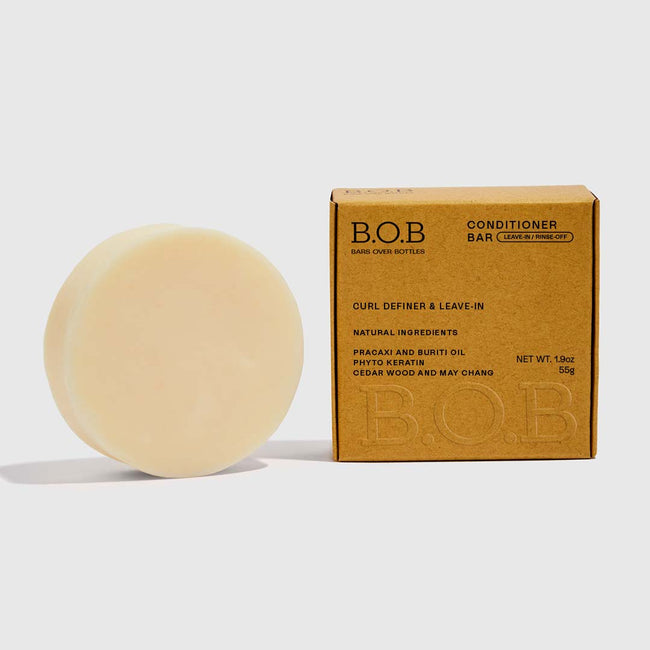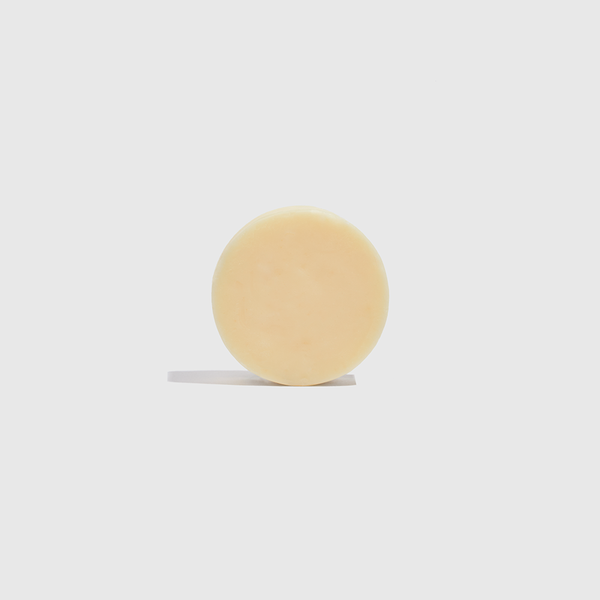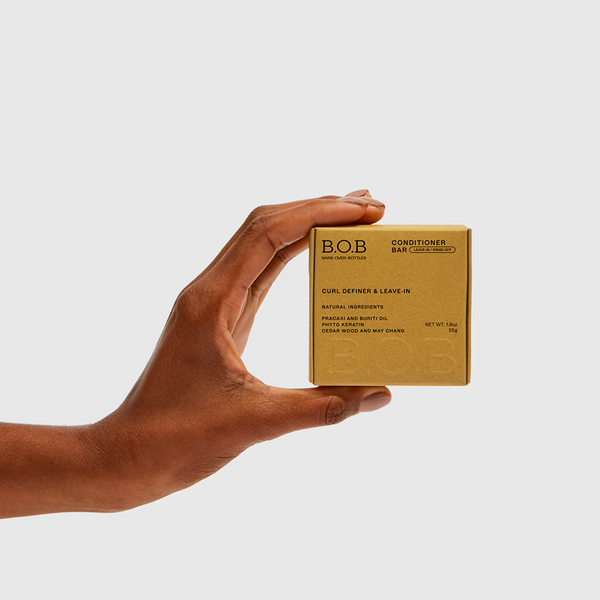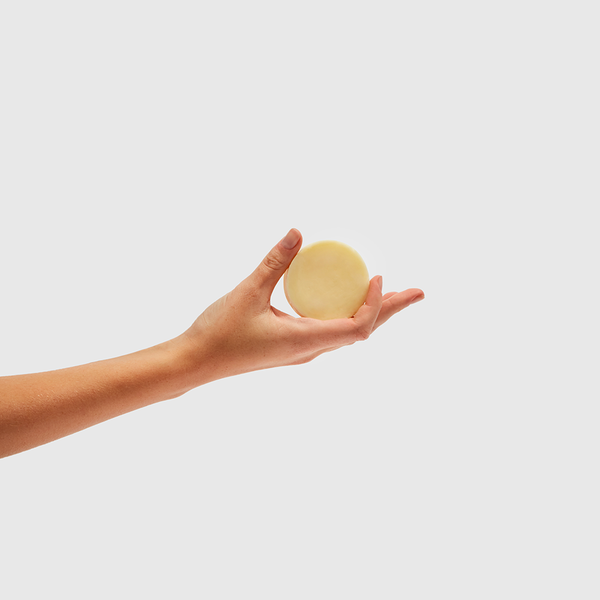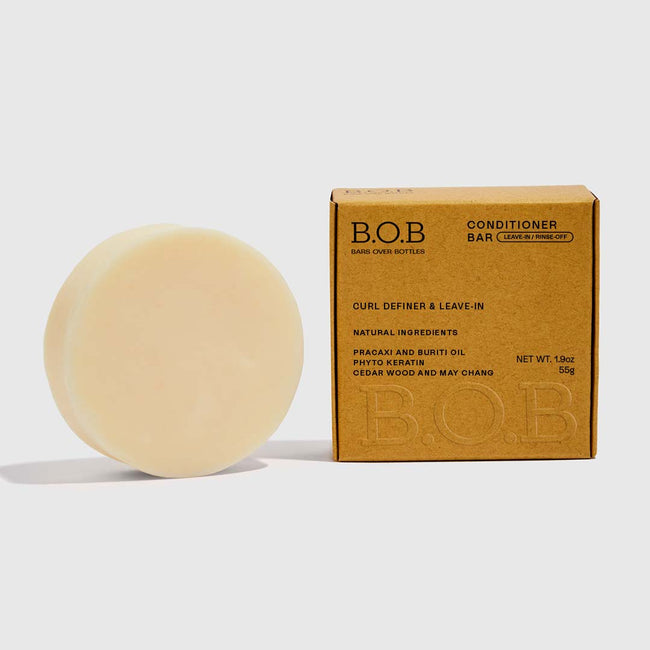 1.9oz
4,5
Curl definer & leave-in conditioner bar
for curly and wavy hair
Description
this 2-in-1 conditioner bar contains a high performance formula that promotes intense conditioning and can be used during your shower or as a leave-in. it defines your curls and controls frizz in a single shower. isn't it perfect?
Curl Definer & Leave-in Conditioner Bar
phyto keratin

rebuilds internal strand structure, repairing possible external damage, such as chemical procedures and excess use of heating equipment (hair dryer!)

mango butter

great moisturizer and a nutrient packed butter that helps with hair dryness, promoting strands definition.

pracaxi oil

acts as a natural conditioner, improves hair shine, reduces frizz and treats dryness, making your hair silky and shiny.

cedar and may chang essential oils

a blend that provides an inviting citrus woody scent to your hair.
Curl Definer & Leave-in Conditioner Bar
full ingredients list
CETYL ALCOHOL, CETEARYL ALCOHOL, MANGIFERA INDICA (MANGO) SEED OIL, BEHENTRIMONIUM METHOSULFATE, PENTACLETHRA MACROLOBA (PRACAXI) SEED OIL, LAURYL LACTYL LACTATE, GLYCERIN, WATER, LITSEA CUBEBA (MAY CHANG) FRUIT OIL, MAURITIA FLEXUOSA (BURITI) FRUIT OIL, TOCOPHERYL ACETATE, POLYGLYCERYL-2 DIPOLYHYDROXYSTEARATE, CEDRUS ATLANTICA (ATLANTIC CEDAR) WOOD OIL, BENZYL ALCOHOL, GLYCERYL CAPRYLATE, GLYCERYL UNDECYLENATE, HYDROLYZED RICE PROTEIN, LACTIC ACID, HYDROLYZED WHEAT PROTEIN (PHYTO KERATIN), GERANIOL, LIMONENE.
how to use
step 1
after shampooing, wet the conditioner bar and slide it from the middle to the tips
step 2
use the palm for support, and rub the bar directly on the hair with gentle circular motions
step 3
spread it evenly along the lenghts of the hair with fingertips or a comb. let it sit for 2 minutes and then thoroughly rinse to reveal gorgeous, nourished hair.
customer reviews
Customer Reviews
10/28/2023
Amber C.

United States
I recommend this product
Leave it in!
I have used this for over a month now and I find that my hair is softer.
09/20/2023
Claire G.

United States
I recommend this product
I am never going back and neither are my curls
I have been looking to move over to bars for a while, but hadn't found anything that was good for my fine, curly hair. I bought the shampoo and conditioner, and this conditioner is fantastic. It lasts a really long time, and it great both as a leave-in and to rinse out. It doesn't weigh down my hair, so I get the volume I need, and the curls are well defined. It plays well with the gel I use, and smells really pleasant and natural.
09/17/2023
Sabrina

United States
I recommend this product
I really wanted to love this; I love other items in the line
I was super excited to try this. I like the Hibar hydrating conditioner, but my local grocer stopped carrying it. So, I thought I would give the BOB curl bundle a try. I LOVE the facial scrub and the shampoo bar in this set! The deep conditioning bar is fine. I don't dislike it, but it didn't quite compete with my current favorite deep conditioner. I don't know if I misused the leave-in conditioner or what, but my hair has not been so tangled since I was a kid. I usually wet comb my hair while still in the shower, using conditioner to detangle my wavy/curly hair. This bar provided none of the slippage I am used to. I thought perhaps I had used the wrong product and had rubbed shampoo all down my hair instead. However, I rechecked the website and confirmed it WAS the conditioner I used. I'm unsure what I did wrong, but the results were hilariously disastrous. It took me over an hour to detangle the dried-out wreck of my hair, and I even had to cut a few places. I don't want to be critical. I adore what this company is trying to do and I know there are always a few hicoughs when expanding to something new. I will continue to enjoy the rest of the line, but the leave-in conditioner is just not for me.
09/20/2023
Bars Over Bottles
Thank you for taking the time to share your feedback and experiences with our products, particularly our shampoo and facial cleanser. We greatly appreciate your kind words about those products. We understand that our Curl Definer & Leave-In Conditioner didn't meet your expectations, and we sincerely apologize for the inconvenience you experienced. Your satisfaction is essential to us, and we're committed to addressing and resolving any concerns you have. To address the issue you mentioned about tangling, we recommend thoroughly rinsing your hair from any shampoo residue before applying the conditioner. Additionally, allowing the conditioner to set for about 2 minutes can significantly enhance its detangling properties. Thank you for being a part of our community.
08/10/2023
Shelby D.

United States
I recommend this product
Love it for my curly hair!
I have 3a and 3b curly hair type. I was using the Hi Bar moisturizing conditioner bar and this one works way better for me! Makes my hair feel super soft!
08/10/2023
Kerri V.

United States
I recommend this product
Fantastic First Impression
I've never used bars before, and I have found my new forever! It left my hair soft, manageable, and curly. Looking forward to it's evolution after each wash. We all know that when switching products it takes a few wasjes to see the real difference. However, so far, I'm in love
07/25/2023
Mariah

United States
06/19/2023
Kelsey M.

United States
I recommend this product
Conditioner
Much better conditioning than other bars I've used and smells great. I do think I'm still getting used to the best effective way to fully get the benefits with the technique to lather (this seems to take awhile?) and/ or use as a leave-in.
I recommend this product
Really wanted to like this product
I have been searching high and low for curly products in bars. I tried this product in place of conditioner, leave-in, and other curl defining products. Even when I only swap out one of the above for this bar, I notice my hair is not as hydrated or curly as it could be. The ingredients in this bar looked promising, but its just not giving the hydration my hair (3B curls) needs.
04/18/2023
Bars Over Bottles
hi there! how are you? thanks for sharing your experience with me. I'm sorry you felt that way about my Curl Definer & Leave-in Conditioner. maybe there is another bar in my product line that will work better for your hair. the Customer Service team will reach out to you ok?
I recommend this product
The BEST conditioner bar I've found!
After trying several different brands of co-wash/conditioner bars, I can definitively say that this is THE BEST one I have found on the market. Unlike other brands I've tried, it isn't waxy at ALL, so it doesn't weigh my hair down, and leaves my hair feeling really moisturized and soft. I was hesitant about the price of it at first, since it's slightly smaller than other brands and is a bit more expensive, but I now realize it's because of the superior quality! It lasts longer than other bars and really makes a huge difference in the softness and bounciness of my curls. I'm so glad I found this product!
03/17/2023
Peggy D.

United States
I recommend this product
Best conditioner bar ever
I love this conditioner bar very good especially for ppl that need extra moisture.. I highly recommend it!!
02/10/2023
Anonymous

United States
I recommend this product
Great for curly hair!
My partner has been using the conditioner bars for a few months now and has very long curly hair. It has never looked better! Far better results for his curls that he's seen with the laundry list of other bottled conditioners he's tried.
09/20/2022
Jacqualine m.

United States
I recommend this product
Curly hair dont care
Amazing ! My daughter has curly tight long hair and would take about 45 minutes to shower (she's 7!) because she would try to brush all knots out while in there using conditioner. Once out, there was always still knots I had to pick out! But now using this shampoo and conditioner combo, just the first time she took a shorter shower because her knots weren't bad! Read the directions on each box on how to use. Not lying ! This is amazing
09/16/2022
Sandy M.

United States
I recommend this product
Company was great!
Amazon forgot to pack the conditioning bar..Company sent one with no issue. It works very, very well. Order from the Company.
06/03/2022
May C.

United States
I recommend this product
Amazing
I obviously love the eco friendly component of this product. However I was extremely happy with the quality of this product. My boyfriend has curly hair and we went on a camping trip. I had originally packed it for myself but he ended up borrowing it. He absolutely loved it and it defined and hydrated his curls so well! I'm thinking about buying a second one just for him.
06/01/2022
Bruna R.

United States
I recommend this product
Good
The products are very good, in special the curl definer & leave in (i loved that one, and the smell is good and strong). The purifying shampoo I didn't like so much, the smell is bad (if you like clay smell so you will like it) and isn't durable like the conditioner. I have one month using them and the shampoo is in little pieces already, but the conditioner no (and I keep both of them dry). The purifying shampoo didn't helped with my oily scalp, and I noticed that my hair is more oily. For sure I gonna buy again, cuz I really like the idea of bars but I'll try another shampoo bar.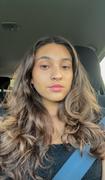 06/01/2022
Deangellisa B.

United States
I recommend this product
Best thing ever
The perfect experience, my curls are loving it