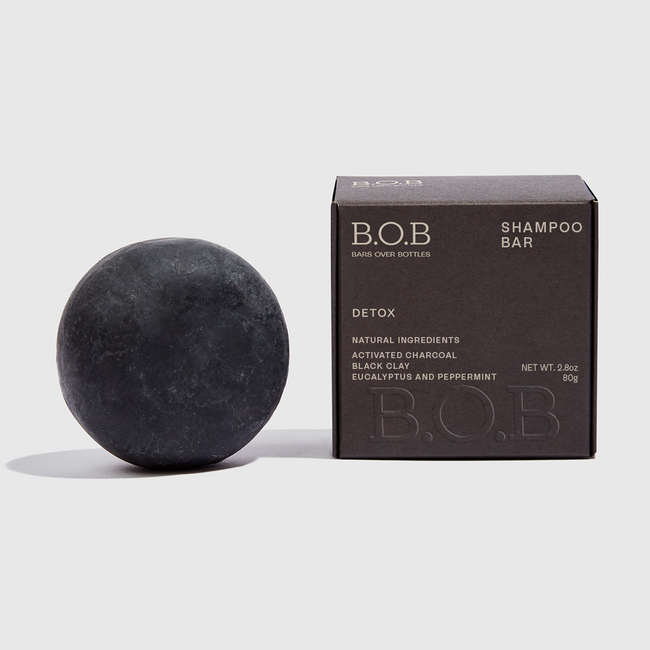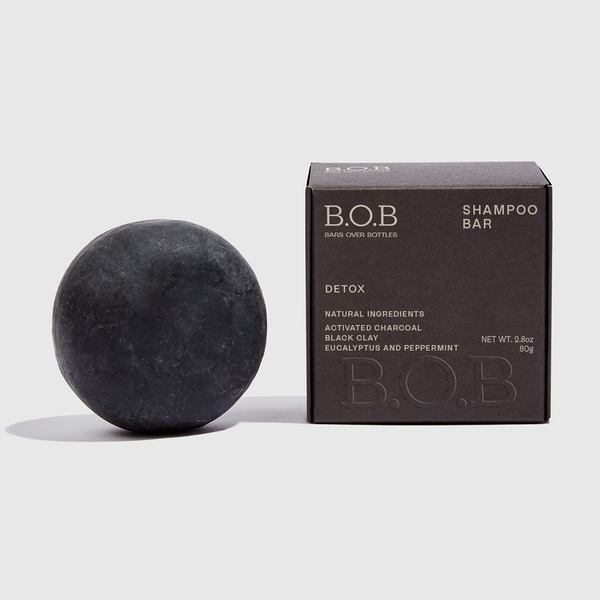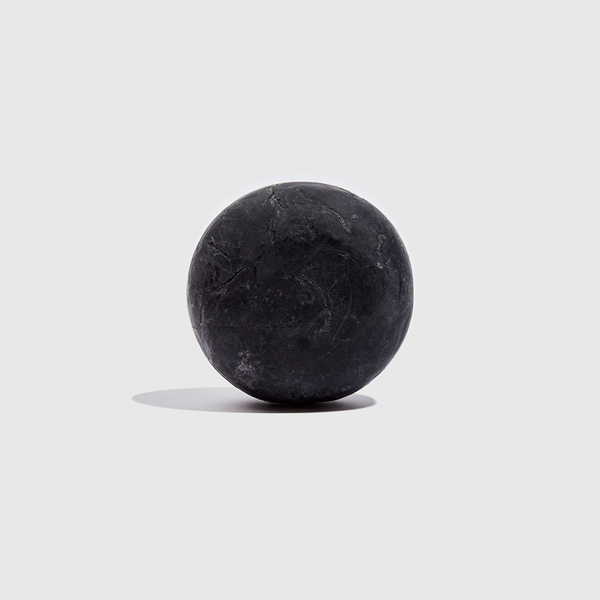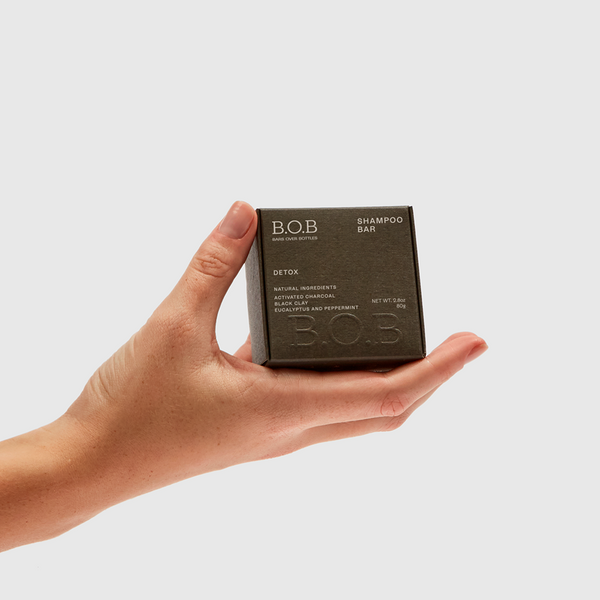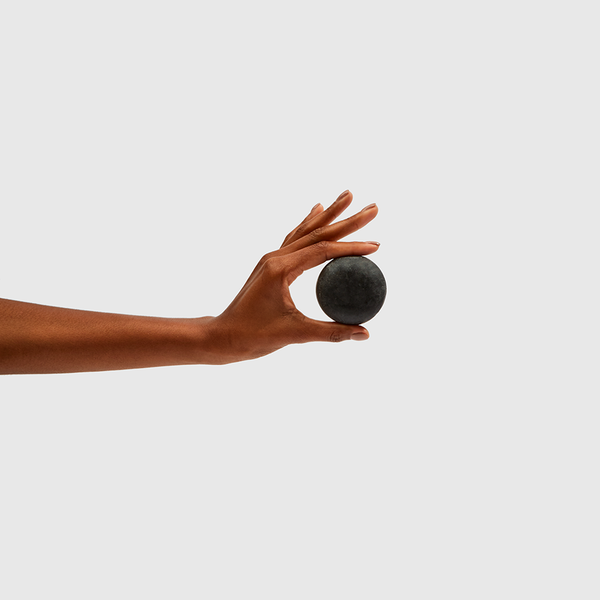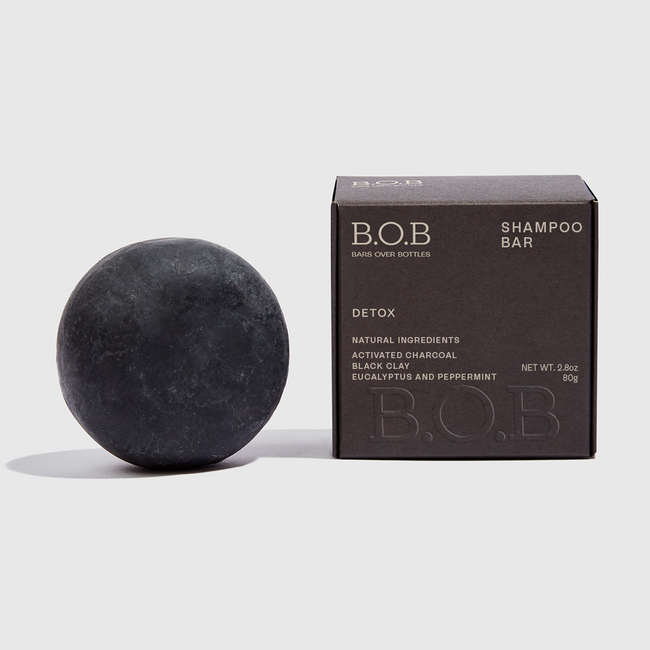 2.8oz
4,6
Detox shampoo bar
for all hair types
Description
say goodbye to flaky scalp! my vegan Detox Shampoo Bar features an anti-pollution formula that cleanses impurities, manages oil production, and revitalizes the scalp after every wash.
Detox Shampoo Bar 2.8oz
activated charcoal

with detoxifying and antioxidant actions, activated charcoal cleanses your hair, while leaving it with a beautiful and natural shine. It also absorbs impurities and pollution residues, deep cleansing and revitalizing your scalp.

black clay

black clay controls scalp oils and improves blood circulation, helping boost your strand´s strength and growth.

eucalyptus essential oil

refreshing blend of eucalyptus oil with antiseptic properties, helps prevent excessive scalp flaking.
Detox Shampoo Bar 2.8oz
scent

herbal, fresh. eucalyptus.
full ingredients list
SODIUM COCOYL ISETHIONATE, CETYL ALCOHOL, THEOBROMA GRANDIFLORUM (COPOASU) SEED BUTTER, ELAEIS GUINEENSIS (PALM) KERNEL OIL, ZEA MAYS (CORN) STARCH, KAOLIN (BLACK CLAY), CHARCOAL POWDER (ACTIVATED CHARCOAL), GLYCERIN, MENTHA PIPERITA (PEPPERMINT) OIL, EUCALYPTUS CITRIODORA OIL, POGOSTEMON CABLIN (PATCHOULI) OIL, DEHYDROACETIC ACID, BENZYL ALCOHOL.
how to use
step 1
apply the shampoo bar on damp hair directly onto the scalp, working the lather in circular motions until the desired amount of foam is achieved.
step 2
massage the scalp using the fingerprints and spread the lather from root to tips.
step 3
rinse thoroughly, and repeat if needed. follow with our bar conditioner
customer reviews
Customer Reviews
10/19/2023
Val

United States
I recommend this product
Hard work for terrible lather
The bar smells great and in theory is convenient but I have never worked my arms so hard for such a terrible, barely present lather. I come out feeling I've accomplished nothing and the shampoo cannot reach my scalp through my thick hair.
07/16/2023
Merissa F.

United States
I recommend this product
Loving it!
I love using this product, it has a lovely aromatherapy smell to it. At the same time I have seen a significant reduction in the amount of flakes in my hair. I will most definitely be using this product in the future very very easy to travel with!
08/05/2022
Holly W.

United States
I recommend this product
Best for oily scalp
I use two shampoo bars from here to do a double cleanse. Detox is always first. Love the smell and it lasts me almost three months with washing every other day. Will continue to order this product.
07/09/2022
Irena

United States
I recommend this product
So Much Joy
I've been using bottled shampoo all my life. I've been curious about shampoo bars and found B.O.B. on Instagram, admiring their aesthetic and informative content. I was happy to find that they are affordable for me, a college student, and they also had a clear selection of products that were not overwhelming to choose from. I have been using this bar for a month now, and my thick hair smells great for the first time since who-knows-when. Before, I used a sulfate-free shampoo and conditioner for a year, and these left waxy and sticky residue and seemed to take forever to wash off. They also interacted even worse with the hard water at my school. I love the texture and scent of this shampoo bar, and as a person who found it tedious to take showers, I now have something to look forward to. I feel even more encouraged to take care of myself.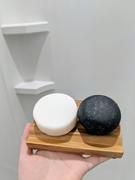 06/19/2022
Liz

United States
I recommend this product
Great for oily hair!
I love this product! It does a great job controlling my oily hair, and the scent is so uniquely refreshing that I look forward to lathering up every time I step in the shower. I use it on my face as well. It does leave a black residue on the soap dish and washcloth, so I switched to using dark washcloths. Totally worth it!
05/10/2022
MARCELE R.

Brazil
I recommend this product
Perfect Shampoo!!!!
I love this so much, it really helped me with dandruff control. Really recommend it.
Wonderful
My hair is straight, I have oily roots and a sensitive scalp. I think the Detox Shampoo cleaned my hair very well. Sometimes I like to leave the product for about 2-3 minutes. It´s wonderful, I switch between using the Detox Shampoo and the Purifying Shampoo and I've been loving it.
Wonderful
I've used the products indicated in the Quiz, Detox Shampoo and Ultra Moisturizing Conditioner. The result was so good! Lightweight, soft and shiny hair results and it also smells so good. The application was super easy. The Shampoo makes a lot of foam and there's no need to rub it in many times. I'm really satisfied with the results.
Good product
My issue is oil excess…and this bar helps to control it. I've paid huge amounts in pharmacy shampoos made specially for oily hair and I haven't gotten the same result. It's only a bit weird when it comes to the scents, it reminds me of cement. But it's ok.
Perfect
I bought my first bar in April 2021 and since then I can't go without it. My hair is strong, shiny and soft as ever!
I have oily hair and this bar really cleans my hair, smells really nice, and makes a lot of foam!
The best Shampoo for oily hair
I really like this shampoo. It cleans up a lot! But I think I'm allergic to some of the components, because my scalp becomes a bit itchy afterwards.