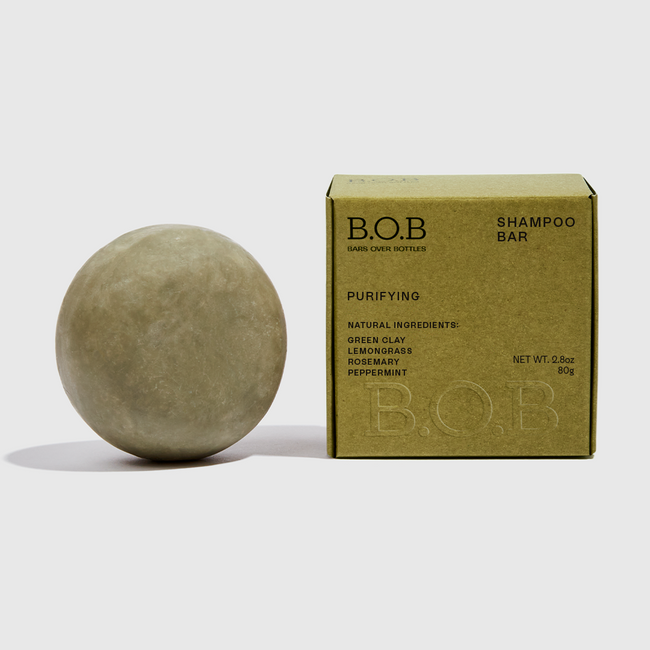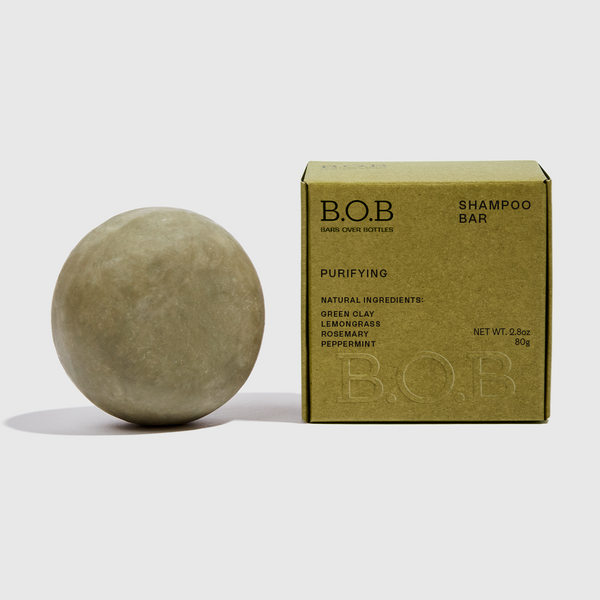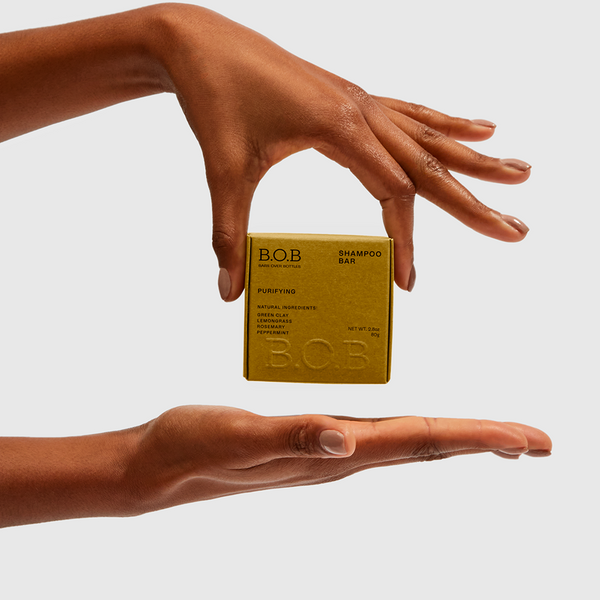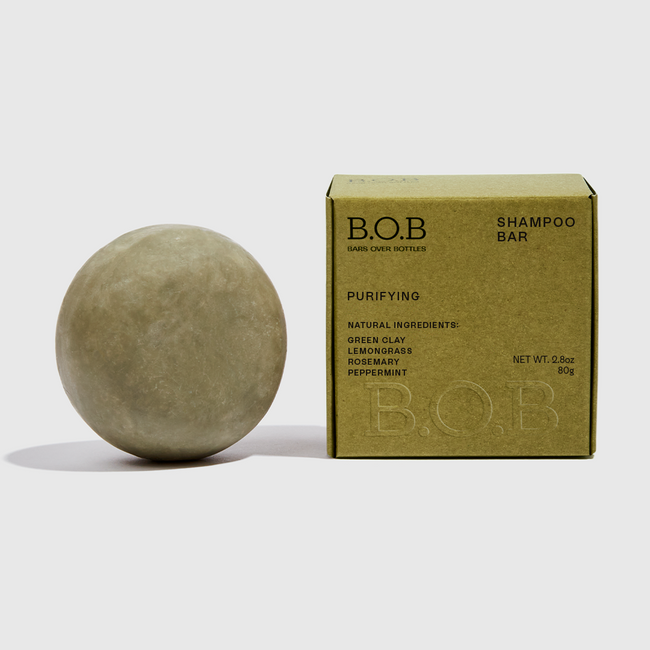 2.8oz
4,7
Purifying shampoo bar
for oily hair
Description
if you are looking for a shampoo bar that will deeply cleanse your hair and control oily scalp, this is the bar for you. and no worries, it will keep your natural hair moisture intact. the result? healthier strands and bouncy hair.
Purifying Shampoo Bar 2.8oz
green clay

deep cleansing and scalp oil control. removes impurities and residues from other products.

rosemary, mint, and lemongrass essential oils

this unique essential oil blend leaves your hair with an energizing and fresh scent while helping with hair growth.

kernel oil

strengthens hair and preserves strand´s natural elasticity, preventing hair loss.
Purifying Shampoo Bar 2.8oz
scent

fresh. mint, lemongrass and rosemary.
full ingredients list
SODIUM COCOYL ISETHIONATE, CETYL ALCOHOL, THEOBROMA GRANDIFLORUM (COPOASU) SEED BUTTER, ELAEIS GUINEENSIS (PALM) KERNEL OIL, ROSMARINUS OFFICINALIS (ROSEMARY) EXTRACT, ZEA MAYS (CORN) STARCH, KAOLIN (GREEN CLAY), GLYCERIN, MENTHA PIPERITA (PEPPERMINT) OIL, CYMBOPOGON CITRATUS (LEMONGRASS) LEAF OIL, ROSMARINUS OFFICINALIS (ROSEMARY) LEAF OIL, DEHYDROACETIC ACID, BENZYL ALCOHOL, CITRAL.
how to use
step 1
apply the shampoo bar on damp hair directly onto the scalp, working the lather in circular motions until the desired amount of foam is achieved.
step 2
massage the scalp using the fingerprints and spread the lather from root to tips.
step 3
rinse thoroughly, and repeat if needed. follow with our bar conditioner
customer reviews
Customer Reviews
88
reviewers would recommend this product
Write a Review
07/31/2023
Anonymous

United States
I recommend this product
Awesome
Love this product. My hair is becoming so much healthier. No need for styling products!!
07/11/2023
Emma K.

United States
I recommend this product
Love These Shampoo Bars!
When I first heard of these, I was skeptical, but I now love them! I feel like my hair is so much healthier and I use WAY less conditioner. These are great! The only negative I would hold against them is that they don't have the best scent, but I like the fact that the bar has more of a natural scent rather than artificial fragrances that can cause my sensitive skin to have problems. I wash twice, and by the second time, I get a great lather and I know that the grease has lifted from my scalp!
05/08/2023
Anonymous

United States
I recommend this product
Best bar shampoo I have tried
I use this as a clarifying shampoo (~once a week) and then use the nourishing shampoo as my daily one and I am very happy with it. These are the few shampoo bars that thoroughly clean my hair. My only complaint is the first one or two times you use them, they can be hard to suds but power through because the rest of the time, the sudsing is perfect (last a few months so first two times is pretty negligible). Also, to soften before, you could keep them in the shower exposed to the steam a few times before you start using them.
02/22/2023
Linda G.

United States
I recommend this product
Best shampoo! Ever!
I have spent lots of money on so many bottles of shampoo over the decades and never found one that my scalp didn't react to. Always the same story of itching and dandruff by the second wash. I spent years rotating through shampoos. Forget about the luggage space when I traveled! I've used B.O.B now for 2 months. Nothing else. I go longer between washings. No itching. No dandruff. My hair looks great! No buildup! Plus my hair isn't falling out like it always was because of the constant irritation. I just happily threw away 11 mostly full bottles of shampoo. I probably have raved about B.O.B. too much, and it sounds too good to be true. But it is true! I'm so thrilled with my discovery, I'm giving sample boxes to my daughters.
01/24/2023
Anonymous

United States
I recommend this product
Works well
Bought this for my adult son to try as he has oily hair. It works well and does not leave a film on his hair like the last brand of bar shampoo did. He is very pleased and will continue to use this shampoo bar. It works as well as the bottle shampoo he had used previously.
01/18/2023
Anonymous

United States
I recommend this product
Effective shampoo bar
I really wanted to try and reduce plastic waste in my personal hygiene/beauty routines. I wasn't sure about using shampoo and conditioner bars at first because I have very dense coily hair and I don't see a lot of people with my hair texture using bars. I was skeptical and I wasn't crazy about the smell but this shampoo bar is amazing. You get tons of lather, my hair felt very clean afterwards, it didn't feel stripped. And the shampoo bar doesn't feel slimy and slippery when you wet it so, using it was very easy. I'm not sure if it will last as long as 3 regular shampoo bottles, maybe 1.5-2 for me, but this was a good product.
08/04/2022
Felicia B.

United States
I recommend this product
Best Bar Soap Ever!
My hair was falling out and I was looking for something without plastic packaging so I gave this brand a try. Me and my husband loved the shampoo and conditioner and my hair stopped falling out but decided to give a few other brands a chance. My hair started falling out again and we didn't end up liking the others as much anyway. So, here we are! Back to BOB and we don't plan on leaving. The face wash is next on my list to try!
06/01/2022
Lauren R.

United States
I recommend this product
Dries out hair
I really wanted to like this product but I don't. This shampoo and conditioner has dried out my hair so bad. I've had to switch back to liquid shampoo and conditioner.
Recommend it
It cleans up and lasts long! Really good
Really good!
It's the second time I use this shampoo. I really recommend it. I feel that when my hair was more oily, the bar brought a refreshing sensation. The product is amazing and it reduces the scalp oils and weighed-down feeling.
Perfectttttt
I love all my B.O.B products, but this one in particular is my favorite. My hair is really oily and when I use the bar makes it feel like it's truly clean, besides an amazing refreshing sensation. It lasts for a long time, I truly recommend it! I wish it was a bit cheaper lol, but it's worth it.
Really good!
The shampoo cleans the hair without drying it and it makes a lot of foam (which it's not always the case with solid shampoos). But, I still feel like the bar isn't going to last long, since I need to wash my hair everyday. Even though it cleans well, at the end of the day, the hair starts looking a bit dirty.
Wouldn't trade for anything!
Our experience with other brands just reinforced how B.O.B products are the best for us. We've adapted best with them in all ways, the quality is incredible, the cost-benefit is a lot better.
The shampoo my hair needed
The product really helps to remove leave-in build-up and impurities
Amazing shampoo
I love all the B.O.B shampoos, they are awesome!